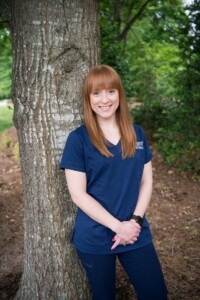 Shannon Rhodes, MS, OTR/L
OCCUPATIONAL THERAPIST
Shannon is a Raleigh native. She obtained her undergraduate degree in Recreational Therapy from East
Carolina University. While attending East Carolina, she completed an internship at a behavioral health
center focusing on child and adolescent mental health. She then went on to work in the public school
system as a teacher's assistant in a classroom for children with autism. She also worked as a one-on-one
aide for a child with cerebral palsy in general education. She then attended Lenoir-Rhyne University,
where she received her Master's degree in Occupational Therapy. During her time at Lenoir-Rhyne she
had the opportunity to participate in research related to increasing resilience in children using
meaningful occupations, impact of therapeutic transition rooms on children's engagement, and the
effects of oral sensorimotor interventions for infants in the NICU. These experiences are where Shannon
found the love of working with the pediatric population.
She has experience in various settings with both adults and children including outpatient clinics, grade
schools, homes, and skilled nursing. In these settings, she gained experience treating children and adults
with autism, cerebral palsy, ADD/ADHD, developmental delay, learning disabilities, sensory processing
disorders, strokes, orthopedic conditions, dementia, and general deconditioning. Shannon has also had
experience providing treatment to her clients through teletherapy.
Shannon recently relocated to Hillsborough with her fiancé. In her free time, she enjoys spending time
with her fiancé, family, and friends. She also enjoys reading, exercising, cooking, and spending weekends
in the mountains or at the beach.