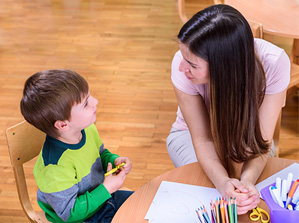 TREATING PEDIATRIC & ADULT PATIENTS
Providing outpatient services to both pediatric and adult patients is what sets Benefit Therapy Services apart from other outpatient rehabilitation facilities. We understand that the need for treatment doesn't necessarily expire when patients are discharged from the hospital.
We want to provide our adult patients with the therapeutic tools that will allow them to lead the most optimal life that they are able to live and equip our pediatric patients and their families with the support that they need to foster communicative growth for their little ones!
INSURANCE PLANS ACCEPTED
We currently contract with Blue Cross Blue Shield, United Healthcare, Cigna, NC Health Choice, Medicaid, Medicare, and Tricare. Private pay is also accepted. We are in the process of becoming an in-network provider for other private insurance companies. We are also providers for the Durham and Wake County Children's Developmental Services Agencies (CDSA)
Benefit Therapy Services is happy to contact your  insurance provider  and file our services on your behalf. However, we recommend contacting your insurance company directly to verify your benefits. Clients, or their legal guardian, are responsible for co-pays, co-insurance, and/or deductibles as well as any costs or fees not covered by their insurance plans.
SERVICES OFFERED
FREE Screenings (Please note that screenings are not the same as a full evaluation. Screenings are merely a snapshot of the child's skills and take approximately 10-15 minutes. Evaluations provide a much more in depth look at the child's current level of function. Evaluations are billed to your insurance provider and/or you.)
Comprehensive Evaluations including written reports
Individualized treatment plans
Periodic progress reports and re-evaluation reports
Home/Carryover Therapy Programs
Unique Interdisciplinary Approach to Treatment when needed
Play-based Strategies
Parent/teacher/client meetings to discuss goals, progress, and carryover strategies
In-services by qualified professionals to childcare facilities, preschools, and other community venues on various topics related to speech and language therapy
Consultation services to educators, parents, and other professionals
Pragmatic Language Groups
Adult Aphasia Language Groups
PRACTICE AREAS
Articulation & Phonology

Developmental Delays related to communication

Expressive and Receptive Language

Early Intervention (Birth to 3 yrs)

Aphasia
Social and Pragmatic impairments

Apraxia of Speech

Fluency (also known as Stuttering)

Oral Motor Disorders

Feeding and Swallowing Impairments
Auditory Processing Disorder

Early Literacy & Phonemic Awareness

Neurodegenerative Disorders

Traumatic Brain Injury

Voice Disorders
LET'S WORK TOGETHER
Benefit Therapy Services is excited to partner with physicians, early intervention agencies, daycares, and other community members in order to extend speech and language services to those individuals in need.