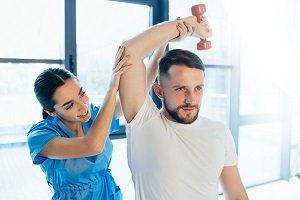 OCCUPATIONAL THERAPY
Benefit Therapy Services provides occupational therapy evaluation and treatment services to both pediatric and adult populations. Our goal is to help patients achieve the highest level of function and independence possible in all areas of daily living. Our on-site therapy gym provides a variety of modalities such as a therapy swing, sensory activities, trampoline, and scooter boards to meet the individual needs of our patients. During the course of treatment, occupational therapists continually reassess the patient's progress and coordinate with team members, including caregivers, to achieve patient specific therapy goals.
PRACTICE AREAS
Fine Motor Development

Gross Motor Development

Brain Injury

Activities of Daily Living (ADL's)

Neuromuscular Disorders

Sensory Integrative Disorders

Balance/Coordination Difficulties

Oral Motor Skills
Cerebral Palsy

Dyslexia

Developmental Delay

Brachial Plexus Injury

Down Syndrome

Handwriting Deficits

Strength and Endurance

Dressing/Grooming
Genetic Syndromes

Autism Spectrum Disorders

ADD/ADHD

Visual Motor/Perceptual Deficits

Eye-Hand Coordination

Emotional Regulation

Feeding/Eating Difficulties
LET'S WORK TOGETHER
Benefit Therapy Services is excited to partner with physicians, early intervention agencies, daycares, and other community members in order to extend therapy services to those individuals in need.