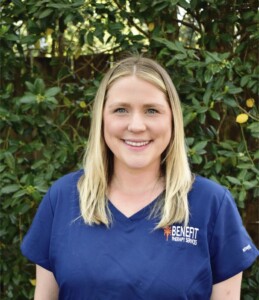 Jolyn Welsh
SPEECH-LANGUAGE PATHOLOGIST
Jolyn Welsh is a national certified and state licensed Speech Language Pathologist. She received her bachelor's degree in Speech Pathology and Audiology at West Virginia University and her master's degree in Speech-Language Pathology at Pennsylvania Western University (Clarion). While attending school, Jolyn gained experience working preschool, school-aged children, and adults in outpatients, hospitals, and schools settings.
During her career over the past 8 years, Jolyn's primary focus and passion has been with pediatrics, specifically in the outpatient setting. She has a special interest in augmentative and alternative communication, early intervention, speech sound disorders, and feeding difficulties. She enjoys furthering her education and most recently completed the Beckman Oral Motor Assessment & Intervention and Language Acquisition Through Motor Planning (LAMP) trainings.
Jolyn understands the importance of building trust and rapport with her families and clients and believes this leads to optimal success. She works closely with families to make functional goals and promotes carry over into the home setting. She loves using a play based approach when appropriate and welcomes families to be a part of therapy.
Outside of her career, Jolyn is a mother of two girls. She enjoys being in nature, crafting, thrifting, and exploring the triangle area as she recently relocated from Pittsburgh, PA to Holly Springs, NC.