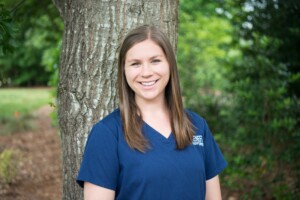 Hallie Young, MS, OTR/L
OCCUPATIONAL THERAPIST
Hallie is originally from Tuscaloosa, Alabama. She received her undergraduate degree in Rehabilitation and Disability Studies from Auburn University. She then attended the University of Alabama at Birmingham (UAB), where she obtained her Master's degree in Occupational Therapy.
Hallie is passionate about outreach and giving back to her community. As a student at Auburn, she participated in Best Buddies International, a program focused on cultivating one-on-one friendships with individuals with intellectual and developmental disabilities. While at UAB she participated in research, alongside the nonprofit KultureCity, to aid first responders in better serving individuals with sensory needs.
During her time at UAB, Hallie gained valuable experience treating both adults and children in outpatient clinics, school systems, and hospitals. While in these settings, she provided therapy to clients with a variety of diagnoses and disorders such as: autism spectrum disorder, Down syndrome, Rett syndrome, cerebral palsy, ADHD, traumatic brain injury, sensory processing disorders, developmental delays, stroke, dementia, and orthopedic conditions.
Hallie recently relocated to Raleigh. In her free time, she enjoys cooking, spending time with her family and friends, and being outdoors.