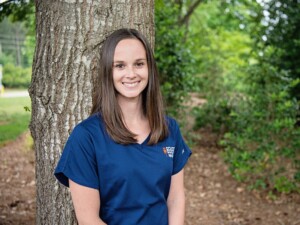 Erica Blaschke, MS, OTR/L
OCCUPATIONAL THERPIST
Erica is originally from Chesapeake, Virginia. She obtained her undergraduate degree in Human Development with a minor in Psychology from Virginia Tech. While attending Virginia Tech, she participated in research related to Autism and children's emotions. She then attended The Medical University of South Carolina (MUSC), where she received a Master's degree in Occupational Therapy. During her time at MUSC, she had the opportunity to visit Uganda and Haiti through outreach programs, where she provided OT services to community members.
These experiences emphasized her belief that strong communication between a therapist, client, and the client's support system is vital to the long-term benefit of therapy services.
In addition to her outreach, she has experience working in various settings with both adults and children including outpatient clinics, preschools, grade schools, homes, and inpatient rehab. In these settings, she gained experience working with Autism, Down Syndrome, Cerebral Palsy, developmental delay, Sensory Processing Disorder, Brachial Plexus injuries, orthopedic conditions, Fragile X Syndrome, congenital anomalies, ADHD, stroke, traumatic brain injury, and general deconditioning. In her treatment sessions she uses various modalities including, but not limited to, Handwriting Without Tears, Astronaut Training, Therapeutic Listening, and The Wilbarger Brushing Protocol.
Erica recently relocated to Fuquay Varina where she enjoys spending time with her husband, daughter, and dog. In her free time she enjoys hiking, playing disc golf, playing soccer, and experimenting with new recipes!