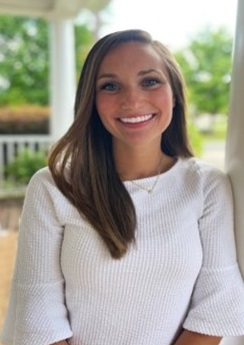 Heather Szymanski, M.A. CCC-SLP
SPEECH-LANGUAGE PATHOLOGIST
Heather is originally from Long Island, New York. She then relocated to Wooster, Ohio, where she pursued a Bachelor of Arts degree in Communication Sciences and Disorders (CSD) from the College of Wooster. Heather discovered the field of CSD early in college and immediately fell in love with the profession. During her time at Wooster, Heather received an honors degree on her senior Independent Study, which primarily focused on how school-based SLPs address the social deficits of elementary school students with language disorders. Heather participated as an NCAA Division III collegiate athlete on the Fighting Scots Women's Lacrosse Team. Heather was an active member of the National Speech-Language-Hearing Association, Lambda Pi Eta (National Communication Honor Society), and volunteered at a local Head Start preschool. She also had the opportunity to study abroad for a semester in Florence, Italy. She graduated from The College of Wooster in 2017 and then pursued her master's degree in Communication Sciences and Disorders at The University of Maine, from which she graduated in 2019. During her time at The University of Maine, Heather completed intensive academic coursework, was a graduate clinician in a variety of clinical settings, volunteered at the Maine Special Olympics, and participated in the Andre R. Hemond Aphasia Retreat.
Heather gained hands-on clinical experience during her undergraduate and graduate studies as well as during her time practicing as a speech-language pathologist. Heather has clinical experience in a variety of settings, including private practice with focus on early intervention, acute care and acute rehabilitation centers at a hospital, school-based settings via face-to-face and teletherapy interactions, subacute, and LTC settings. Her caseloads consisted of patients in a variety of age groups, from pediatric to geriatric, with the following communication needs: expressive / receptive language disorders, articulation /phonological impairments, Prader Willi syndrome, Down syndrome, developmental / intellectual delays, fluency disorders, hearing loss with use of cochlear implants / hearing aids, ASD, dementia, social communication impairments, Parkinson's disease, MS, voice disorders, TBIs, and CVA resulting in apraxia, aphasia, RHD with visual neglect, dysarthria, and swallowing disorders with trach care experience. Additionally, Heather provided services to children at a school in Fiji via teletherapy, and has experience leading an online aphasia communication group.
Heather holds a Certificate of Clinical Competence through the American Speech Language and Hearing Association and a Speech-Language Pathology license in good standing through the North Carolina Board of Examiners in Speech Language Pathology and Audiology. Heather is passionate about applying her clinical skills to help patients of every age and is excited to continue to grow as a clinician and member of the Benefit Therapy Services team.
Heather currently resides in Chapel Hill, North Carolina. During her free time, Heather enjoys outdoor activities, traveling to national parks, and spending time with her family and friends.