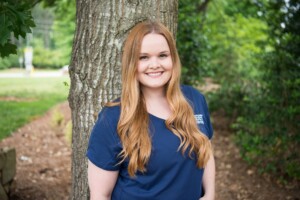 Breah Claar
SPEECH-LANGUAGE PATHOLOGIST
Breah is a speech therapist licensed to practice in the state of North Carolina. She initially earned a Bachelor of Arts in Psychology and completed post-baccalaureate coursework in Communication Disorders and Deaf Education. She then went on to earn a Master of Science in Speech Language Pathology from Loyola University Maryland.
Breah strives to create a supportive therapy environment by collaborating with families, respecting individual needs and encouraging all modes of communication. She has served children and their families in the home, clinic, daycare, school and teletherapy settings. She has experience evaluating and treating the following: articulation/phonological disorders, receptive and expressive language delays/disorders, fluency disorders, pragmatic language disorders, autism spectrum disorders and Down syndrome. She has experience programming and implementing AAC devices and is familiar with GoTalkNow, TouchChat and LAMP Words for Life. During her clinical internships, she also served adults with aphasia, apraxia, cognitive communication disorders and voice disorders in group and individual settings.
Breah currently lives in Cary with her husband and chihuahua. She enjoys hiking and mountain biking, as well as trying new restaurants, drinking coffee and spending time with her family. She is excited to be a part of the therapy team at Benefit Therapy Services and eager to serve clients in the surrounding communities.