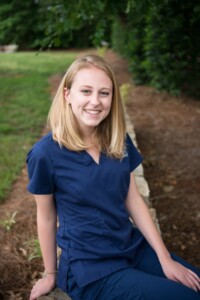 Amanda Leonetti
SPEECH-LANGUAGE PATHOLOGIST
Amanda recently moved from Ocean City, New Jersey to Holly Springs, North Carolina. Her favorite parts about her new home include the farmer's market and Bass Lake Park. Outside of the office, she enjoys riding bikes and spending time in her garden. Amanda is often seen with a cup of tea.
Amanda lived in Philadelphia, PA while pursuing her undergraduate degrees in Spanish and Communication Sciences and Disorders from La Salle University. In her time at La Salle University, Amanda also completed minors in Latin American Studies and Global Leadership and Understanding. She received her master's degree in Communication Sciences and Disorders from Stockton University in Galloway, New Jersey. As a graduate clinician, Amanda gained valuable experience in the following settings: special services preschool, inpatient acute care, outpatient rehab, university clinic, and outpatient stroke support group. Amanda has experience with both the assessment and treatment of the following areas: pediatric feeding, articulation/phonological disorders, adult/pediatric language disorders, fluency, autism, deaf and hard of hearing clients, adult swallowing disorders resulting from stroke/Parkinson's disease/TBI/head and neck cancer, voice disorders resulting from Parkinson's/head and neck cancer/strain, AAC clients, early intervention, motor speech disorders, and cognition. Amanda has experience working with bilingual populations as well as with running an outpatient Aphasia support group.
Amanda is certified by the American Speech Language Hearing Association and by the Board of Examiners for the State of North Carolina. She is excited to grow as a clinician at Benefit Therapy Services and learn how to best serve her community in Holly Springs.